The healthcare industry heavily relies on phone systems as well as digital platforms for scheduling appointments and guiding patients in emergencies. A whopping 88% of patients prefer scheduling appointments on the phone. Effective communication is essential for any healthcare organization to provide quality care to its patients. However, managing the numerous communication channels such as phone calls, text messages, emails, and video conferencing can be overwhelming and time-consuming. A robust and reliable phone system, such as an IP PBX (Internet Protocol Private Branch Exchange) phone system, can help streamline healthcare communications and improve patient care.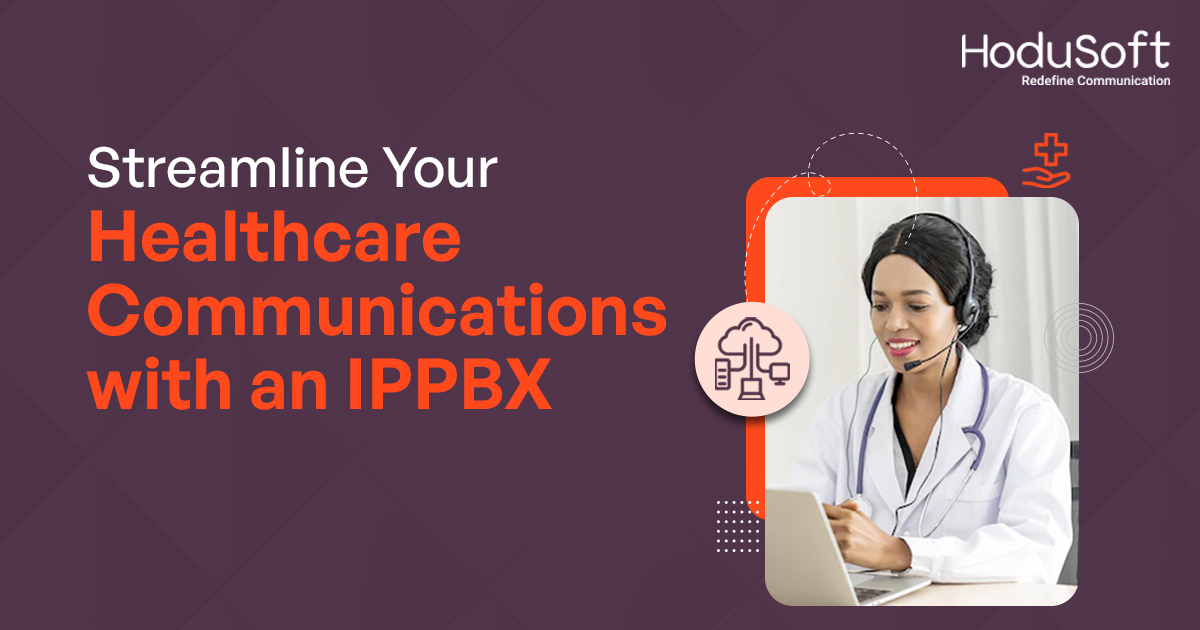 The future of healthcare communications with IP PBX Systems
An IP PBX phone system is a modern and advanced phone system that can handle all your healthcare communication needs. It integrates various communication channels into one system, making it easier for healthcare organizations to manage and monitor calls, texts, and video conferencing. These systems play a crucial role in ensuring excellent customer service and maintaining confidentiality. In this blog, we will be exploring its various features and how they can be used to streamline healthcare communications. Whether you are a small clinic or a large hospital, an IP PBX system can provide the necessary tools to improve your healthcare communications and drive your business forward.
Need for IP PBX in the healthcare business
Phone systems are crucial for the healthcare industry, as they enable effective communication within and outside the organization. With more healthcare companies investing in advanced and user-friendly phone systems, these systems have become a vital aspect of daily operations, including:
1. Patient Assistance
Modern hospital communication systems, such as the IP PBX system, offer patients assistance through Interactive Voice Response (IVR) by providing information on doctor availability, answering questions about prescribed medicines, addressing payment-related issues, and providing patient information do's and don'ts and paperwork.
2. Eliminating Information Barriers
The IP PBX system acts as a centralized knowledge base, allowing medical professionals to access up-to-date patient information, making it easier for doctors to refer patients to other doctors, request lab work or medicines, and schedule follow-up appointments.
3. Improving Internal Communication
Doctors and nurses can communicate with each other, facilitating the smooth running of their businesses by leveraging its advanced features. The IP PBX phone system integrates all activities in different areas of the hospital such as inventory, emergency patient care, and supplies required for specific patients.
4. Streamlining Financial Transactions
Phone systems help automate financial records and improve the accuracy of financial documentation, streamlining transactions between clinics, hospitals, and third-party vendors such as medical equipment makers, drug suppliers, and insurance providers.
5. Harnessing Data
IP PBX in the healthcare business captures large amounts of data about customers, providing actionable insights by refining and analyzing the data, allowing businesses to leverage call center data for business growth and optimization.
8 IP PBX features for driving efficiency for healthcare businesses
IP PBX systems offer a wide array of features that contribute to enhanced functionality in different operations of the healthcare business. Let's take a look into some important features that help businesses drive efficiency resulting in revenue generation in the long run.
1. IVR system
The Interactive Voice Response (IVR) system allows patients to access information and services outside of regular business hours, reducing the need to wait for a live operator. This can lead to a decrease in the call abandonment rate and an increase in patient satisfaction. 
It also facilitates automated appointment scheduling, payment processing, and prescription refills, making it easier for patients to access the services they need. Other benefits of IVR systems in healthcare include cost savings, reducing the need for additional staff, and providing accurate and up-to-date information to patients.
2. Call recording
Call recording is a useful feature that enables the recording of conversations for later listening. By recording calls, healthcare businesses can listen back to conversations and use that information to improve communication and collaboration among staff members. For example, call recordings can be used to evaluate agent performance, identify training needs and opportunities, and identify areas for improvement. 
Call recordings come in handy for compliance and legal purposes, as they can provide a record of conversations that took place. It helps healthcare businesses to improve their internal communication, by providing a valuable tool for monitoring and analyzing customer interactions.
3. Call routing
Call routing is a beneficial feature of an IP PBX for healthcare businesses. It allows incoming calls to be directed to the most appropriate agent based on factors such as availability, skills, and language. For example, calls related to billing can be routed to a specific department, while emergency calls can be directed to a designated person. This ensures that calls are handled by the appropriate person, leading to faster resolution of customer concerns. 
This feature reduces call abandonment rates and improves customer satisfaction by directing calls to the most available and qualified agent. Overall, call routing serves as an essential feature of the IP PBX system for healthcare businesses to enhance the customer experience and streamline internal communication.
4. Auto-provisioning
Auto-provisioning is a feature that simplifies the process of configuring phone systems for healthcare businesses with a large staff, including doctors and call center agents. Instead of manually configuring each device, this feature allows for the rapid deployment of telecom services with just a few clicks. 
The benefits of auto-provisioning include:
Saving time and effort
Streamlining the onboarding process for new staff
Reducing errors in provisioning devices
Ensuring simple and quick connectivity with the office network
It enables healthcare businesses to manage their phone systems efficiently, reducing the complexity and time required for setup, and ensuring smooth communication and connectivity.
5. Conferencing
Conferencing is a feature that allows multiple parties to participate in a call simultaneously and serves as a beneficial feature of an IP PBX phone system for healthcare businesses. It enables internal communication between healthcare professionals and stakeholders such as doctors, nurses, administrators, and other staff members. This can be especially useful for healthcare businesses with multiple locations or remote workers. 
The conferencing feature can be used for meetings, consultations, and case discussions, making it easier for healthcare professionals to share information and collaborate on patient care. It enables staff to schedule and join the conference call remotely, which provides flexibility and allows professionals to join the call from any location. This can enhance internal communication, reduce the time and money spent on travel, and improve the quality of patient care.
6. Video calling
Video calling facilitates real-time communication with patients, as well as improves internal communication among staff. It enables agents and doctors to provide immediate resolution to patient concerns and supports virtual training programs for agents. It also aids collaboration between staff members and helps to boost business productivity. 
With the help of video calling, healthcare professionals can make a remote consultation, which can be a great solution for patients who can't come to the office or hospital. This feature can be especially useful in pandemics, epidemics, and other situations when providing remote healthcare services is the best solution.
7. CRM and payment gateway integration
CRM (Customer Relationship Management) and payment gateway integration are beneficial features of an IP PBX phone system for healthcare businesses. These integrations can streamline and automate the process of managing customer interactions, appointment scheduling, and billing. 
By integrating a CRM system with the phone system, healthcare businesses can easily access and update patient information, track customer interactions, and schedule appointments. This can enhance internal communication, as all the relevant information is easily accessible in one place. Payment gateway integration allows healthcare businesses to process payments, manage to bill and handle financial transactions more efficiently. This can help to reduce errors and streamline the financial process, which can help to improve the overall customer experience.
8. Data analytics & reporting
Data analytics and reporting are powerful tools that can be used to measure the quality of customer service provided by healthcare businesses. It provides complete visibility into agent performance and common issues faced by customers. The feature analyzes a large volume of data collected through the phone system to generate easily interpretable reports. These reports not only aid in decision-making but also inform marketing strategies.
The benefits of call analytics include:
Gaining deeper insights into patients' preferences, needs, and expectations
Evaluating agent performance using the right metrics
Identifying training needs and areas for improvement
Helping to identify which services are in demand and which are not.
This feature is used to optimize customer service, improve agent performance, and drive business growth.
Deliver exceptional CX with IP PBX
A phone system for healthcare can enhance customer service by providing advanced communication and collaboration features. If healthcare organizations fail to provide a smooth experience for patients, it can lead to a decrease in patient retention, ultimately impacting the bottom line. Inadequate communication and collaboration can lead patients to seek more convenient options from competitors. 
An efficient phone system can keep the patients loyal, by providing them with an intuitive and seamless experience. If you are looking for reliable phone system software, check HoduPBX to meet all your business communication needs. HoduPBX is a leading IP PBX software that provides healthcare businesses with all the essential features to eliminate communication barriers for staff as well as customers.