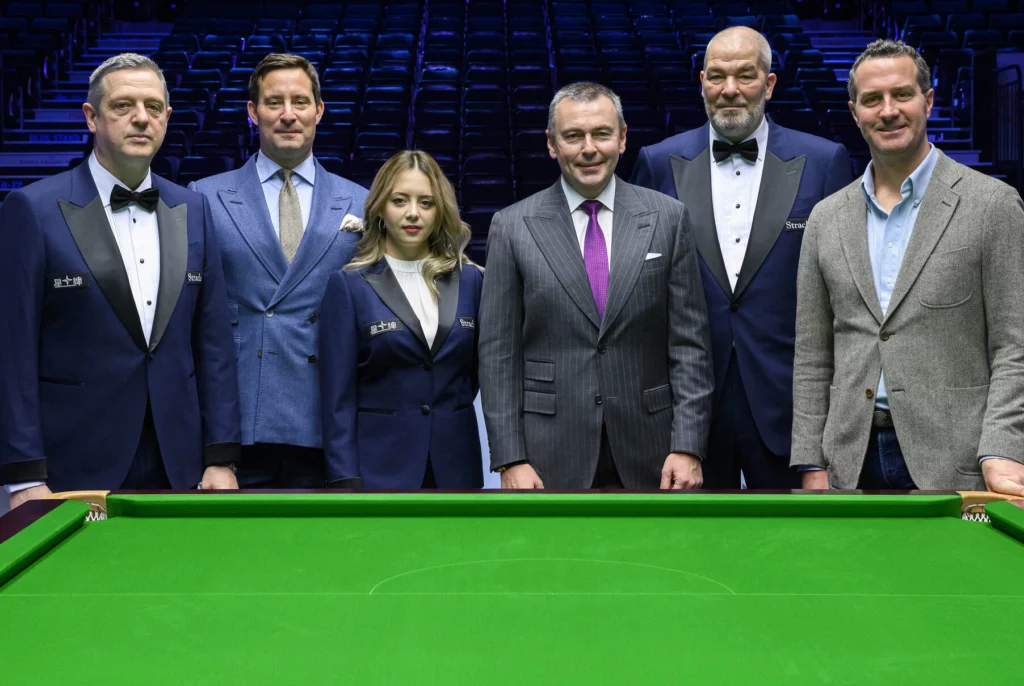 Snooker is a popular cue sport with many rules that the referee needs to ensure that the players follow. Needless to say, a referee is an integral part of snooker. To become a professional referee who works in tournaments organized by the World Professional Billiards and Snooker Association (WPBSA) one needs a great deal of experience. 
It's no easy feat, but the kind of careers referees like Jan Scheers & Ingo Schmidt have had any snooker player spin dreams of becoming a career. However, when we talk about the salaries paid to snooker referees, the total is going to depend on experience. 
Professional snooker referees get a base salary of £25,000 per season if they're male and £20,00 if they're female. This is the retainer fee. To dive into the details, keep on reading.
Snooker Referee Salary At Different Levels – Total Earnings
Snooker referees get their salaries based on their experience as a referee and as a player. Sadly their gender also plays a big role in their earnings. Females earn considerably less than males in this industry. A game of top-performing male snooker can earn up to £250,000 annually, whereas a female referee earns only up to £175,000. 
However, this trend may change soon as some of the top referees are now female. Michaela Tabb, Atiana Woollaston, and Desislava Bozhilova are women that have made a good name for themselves in the world of this sport. 
So now let's see in more detail how much you can earn as a snooker referee. You can put referees in three categories based on their payment; entry-level referees, female professional referees, & male professional referees. 
Entry Level Referees
Snooker referees are deemed entry-level after they are qualified. They begin by participating in lower-level events and progress upward. Beginner referees receive an average of £40 a game, with occasional increases to £70.
Although the beginning salary of £4,500 is insufficient to support a family, players can advance to the professional level after 3–4 years of refereeing in amateur and local tournaments.
| | | |
| --- | --- | --- |
| Category | Fees Per Match | Base Salary |
| Entry-Level Referees | £40-70 | £4500 |
Female Professional Referees 
Snooker has seen an upsurge in the number of female players in recent years, and most major tournaments now use female referees. By officiating at the highest level of snooker for the better part of 15 years, Michaela Tabb contributed to the rise of female snooker referees.
As of this writing, Tabb is the sole female snooker referee to have presided over the World Championship final, having done so in 2009 and 2012.
Tatiana Woollaston and Desislava Bozhilova, two women who are leading models for successful female snooker referees, are now well-known figures in the snooker community. Desislava Bozhilova really makes more money than the average woman, with a base income of £23,500.
| | | | | |
| --- | --- | --- | --- | --- |
| Category | Base Salary | Per Match Fee | Tournament Fee | Sponsorship |
| Female Professional Referees | £20,000 | £250 – £500 | £1400 | £1,000 |
Male Professional Referees
The Masters, the Cazoo World Snooker Championship, the BetVictor European Series, and other significant international competitions are officiated by professional referees. Their typical yearly wage is £25,000 They can also make up to £1,500 from several side tournaments. In addition, they can sign a variety of endorsement agreements for an average income of £1,000.
| | | | | |
| --- | --- | --- | --- | --- |
| Category | Base Salary | Per Match Fee | Tournament Fee | Sponsorship |
| Male Professional Referee | £25,000 | £500– £1,000 | £1400 | £1,000 |
What Does A Snooker Referee Do?
Snooker referees oversee snooker matches. Therefore they must pay great attention to the action. The referee must award the appropriate penalty depending on the violation and signal it when an infraction happens. Referees frequently have to contend with objections to their calls, and they may need to use instant video replays to back up their decisions.
Snooker referees frequently serve as game monitors, but during tense matches, particularly in the biggest competitions, they occasionally must intervene. Based on a snooker referee's call, live betting odds can fluctuate. Momentum can suddenly change from one player to the next if the referee is forced to make a contentious choice.
Some other duties that the referee performs are-
Flipping a coin to decide who will break the first frame
He reveals the player who will break every other frame.
Can call fouls and announce a miss
Identifies fair and unjust behavior
Removes dirt from a ball at the players' request
He provides information about a ball's color and/or position upon request and awards a frame or a game.
Able to replace a ball or a group of balls
Can declare a Touching Ball
Can invalidate points in a deadlock
How To Become A Snooker Referee?
Depending on the nation, different procedures must be followed to become a referee. The English Partnership for Snooker will be the topic of our discussion. This is due to the fact that England hosts the majority of big competitions, making it a great place to start. In addition, many nations duplicate the EPSB's method.
There are three classes of referees in snooker. Class 3 is the lowest ranking one. You will be free to referee more games as you go through the tiers. Here's how you get your career started.
Class 3
The easiest license to get as a snooker referee is this one. In fact, you might theoretically be granted Class 3 accreditation in just a few days. To get this accreditation in England, You'll have a two-day course where you'll go over the regulations. 
You'll be checked out in the end. You can then referee at a class 3 level if you pass the test. These will be the EPSB's smaller-scale sanctioned events.If you stay at this level, it will be difficult for you to obtain employment, especially well-paying jobs.
Class 2
You will be required to officiate authorized snooker matches during the next two years. Following that, a log of all of these matches will be kept, and it will be contrasted with the official record.
You can seek to be a class 2 referee after two years. Your chances of being approved increase as more matches are reviewed. You must take an extra course and pass an exam, though. A mentor may also be assigned to you by some snooker boards to help you get through this phase. The mentor will then have the final say on whether you can submit an application for a Class 2 license.
Class 3
You must be a class 1 referee if you wish to officiate in World Championships. As you may expect, very few individuals will ever advance to this level. Class 2 to Class 1 will take at least two years, but some may wait up to ten years.
The majority of snooker boards have been working to recruit younger referees in past years. This explains why the World Snooker Tour now frequently features several younger umpires.
Final Words
Snooker referee salary only gets worth the struggle only when you work your way up the ladder. Before that, it can be a side gig at best. However, if you love this game, there is no harm in being certified and starting your journey as a class 3 referee.
Your experience as a player also counts when it comes to professionally refereeing snooker games. So, for players, this may be a viable career plan. Jan Scheers, the highest-paid snooker referee as of now, gets a basic salary of £30,000. But to get to that level, you have to work really hard. 
Read below posts:
How To Become A Construction Manager In The UK
Strategies to overcome the lack of IT Specialists in the UK
HGV Drivers: What Are Your Career Prospects