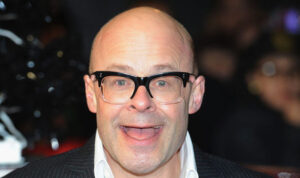 Harry Hill is a famous English comedian, writer, and presenter who hosts the Junior Bake Off. A rumor has been circulating online about Harry Hill injuring himself on the sets of Junior Bake Off. These rumors started because, in one of the episodes of Season 6, Harry Hill appeared with a sling. However, the comedian hasn't made any comments on his rumored injury. 
Even without confirmation, it is fair to speculate that he might have hurt himself. However, some people online are spinning wild stories about how Harry Hill broke his arm. A Twitter user thinks he hurt himself by jumping onto a pile of plastic. Even crazier, another fan thinks him flapping his arms over-excited during an episode of Junior Bake Off may be responsible for the injury.
Needless to say, these stories sound too wild to be true. So, we are definitely cynical as to their validity. 
Will Harry Hill Be Back In Junior Bake Off?
Junior Bake Off hasn't yet been renewed for a new season. But it hasn't been canceled either. So, fans have to wait to learn the fate of their favourite baking show. However, Harry Hill has stated on multiple occasions that he loves working in the Junior Bake Off. Even though the show makes him more nervous than any of the other TV shows he has done, he finds it fun. Part of the reason for this is that the Junior Bake Off isn't too scripted. It allows some natural humor. 
But Harry does hate sending his junior contestants home. He finds that bit especially challenging. That's his least favorite part of reality shows. Whether he will continue work in Junior Bake, Off or not is yet to be revealed. Hopefully, Channel 4 will make an announcement soon!
Harry Hill's Current Projects
Currently, Harry Hill is performing live shows in a long list of cities. His new show is called "Pedigree Fun." He will be touring all over the country. You can catch his shows in Leeds, Aberdeen, Torquay, Nottingham, Cardiff, and many other cities. He will continue touring in October through November. 
The show will also feature Stouffer the Cat, Ian, The Information Worm, and Sarah the elephant. For Harry Hill fans, it's a treat not to be missed. To get tickets, click here. 
Why Did Harry Hill Change His Name?
Born on October 01, 1964, Harry Hill's birth name was Matthew Keith Hall. Harry was all set on a career as a doctor, but on his very first job, he felt that it wasn't the right profession for him. So, at 25, he quit the medical profession and entered the comedy scene. By 1992, Harry had enough attention on him at Edinburgh Fringe Festival to win him the Best Newcomer Award in the Perrier Awards. It was at this time that he felt the need for a change. 
When Harry's career as a comedian began to take off, he decided he needed a better fitting name for showbiz. So, he changed his given name to Harry Hill, which he thought sounded more glamorous. 
Harry has spoken in the media about why he changed his name plenty of times. He also has a published autobiography titled 'Fight! Thirty Years Not Quite at the Top', which details a lot of his struggles as a comedian. The book has a good rating on Amazon & Goodreads. You can give it a read but beware. You may crack up at any given moment. His writing is peppered with laugh-out-loud moments that will have you clutching your stomach. 
Why does Harry Hill wear big collars?
Big collars and statement glasses are what we associate with Harry Hill. He chose that style for himself at the beginning of his career and stuck with it. During his struggling years, he used to purchase his suits from Oxfam for £5 to wear with his distinctive large-collared shirts. Now, he gets them tailored to size. 
When talking about his big collars, he said, "I'm not one of those people from TOWIE. If I wear the big collars in public, it's like Elvis Mania – everyone recognizes me."
It's Harry's way of grabbing attention and being recognized while at work. A big collar to go with his BIG personality. However, when he is out in public and doesn't want to be recognized, he ditches the big collars, and that does the trick. He explains, "So when I go out, I wear different glasses, a hat, and grow some beard. I can travel on the tube, and no one really knows it's me."
Read this post: Space Jam 2 Box Office