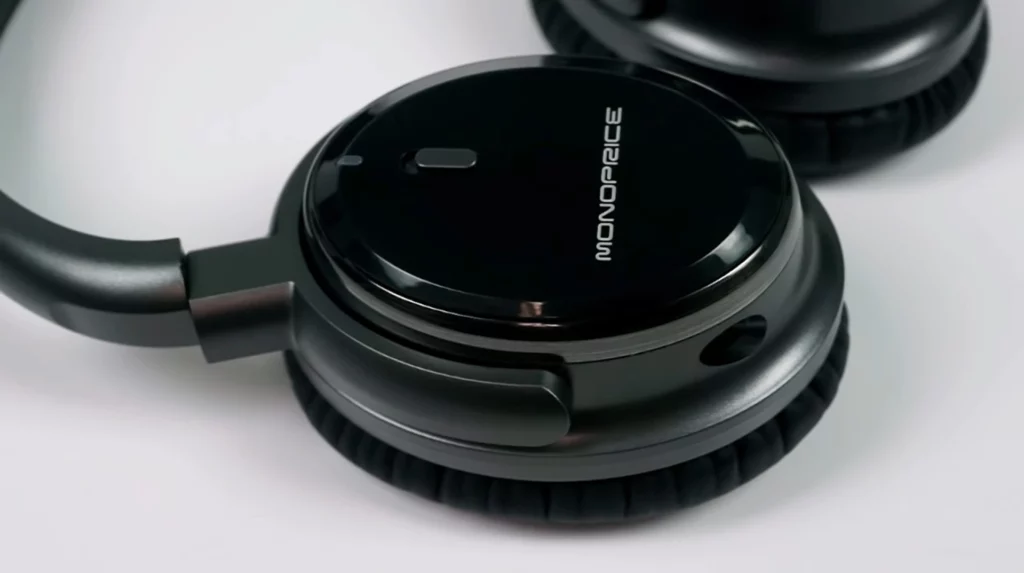 Monoprice is a well-known consumer electronics brand that has a wide variety of electronics product lineups. Their products come with excellent build quality and provide the best solution for specific needs.
But today we are going to talk about one of the best headsets which is Monoprice 110010. This stylish, lightweight, affordable headset has active noise canceling feature which makes it the best deal in this price range.
The sound quality of the headphone is good and the build quality makes comfortable wearing experience with memory foam ear cups. Plus, it packs up all the other features you'd expect from such a noise canceling headphone. Let's have an inside look at what others it offers,
Monoprice 110010 full specification
Like other active noise canceling headphones, Monoprice comes with AAA batteries and offers mediocre specifications. You can have so many options of the best headphones in the market with similar specifications but in terms of price, they are far beyond the Monoprice 110010.
As the brand has always aimed to provide budget-friendly alternatives to high-priced products, you may want to grab this headset by looking at the specifications.
| | |
| --- | --- |
| Specification | Details |
| Dimensions | 6.9″ x 6.4″ x 3.1″ |
| Weight | 6.3 oz |
| Connection | 1/8″ TRRS |
| Detachable | Yes |
| Volume | 131.13 Cu. Inches |
| Call/Music Control | Yes |
| High-Bass | 4.66 dB |
| Low-Bass | -0.34 dB |
| Impedance  | 32 ohms |
| Default Latency | 0 ms |
| Low-Frequency Extension | 19.71 Hz |
| Mid-Bass | 2.59 dB |
| Std. Err. | 2.94 dB |
| Clamping Force | 0.7 lbs |
| Additional Buttons | No |
| Channel Mixing | N/A |
| Passive Sound Isolation | 35dB |
| Length | 4.58 ft |
| Battery Type | AAA |
| Battery Life | 52 hrs |
| Driver Type | Neodymium magnet |
| Driver Size | 40mm |
Monoprice 110010 Headphone Details
Monoprice 110010 can be compared with some of the big brand's headphones models which cost a little bit higher. You can consider the Bose QC15s which has a slightly better sound profile and appearance than Monoprice but the other features are similar. You can also consider Creative HN-900, Harman Kardon NC, and Audio-Technica ATH-ANC9 in this list.
Style
The headphone has a simplistic look with a full black appearance and the earcups have a glossy outlook behind. For those who prefer style over sound profile, Monoprice 110010 won't be a good option. Because its monochrome minimalist look doesn't seem what they need. Even its similar market competitor Bose QC15 headphones have better visual appearance and color.
Comfort
Headphones' comfortability is determined based on different factors. For instance, you need to consider the build quality, breathability of the ear cups, weight, adjustability, and how it feels when you use the headphone for a longer period. Moreover, headphones' comfortability can vary between individuals.
In this regard, Monoprice 110010 is good if you are using it as indoor headphone on a PC, laptop, smartphone, or watching TV. But they lack comfort and stability when used outdoors and doing activities. However, the earcups are nicely padded but they aren't as good as competitors.
Portability
If you mostly go out with your headphones, then portability is important. Although monoprice 110010 has bulky design, it comes with a nice carrying case. You can lay the earcups flat to get them placed in the case.
Sound profile
The headphones have good bass sound profile and deliver 92% linear reduction in noise pressure and 99% linear reduction in noise energy. The logarithmic reduction in noise pressure is 19 dB and headphones have a Frequency Response of 20Hz to 20KHz ±3dB.
Noise Isolation
The headphones provide superior noise cancellation which makes a quite empty environment to enjoy the song more. Whether you are using it in house or outside, the noise canceling circuitry will eliminate all the noise and external sounds and give you the quiet you need to give attention. The ANC circuitry is geared with the AAA battery which causes it to give up a little bit of clarity in the sound output. But you know it's usual for all ANC-featured headphones.
In the case,
Monoprice 110010 headphones come with,
55" audio cable with an inline microphone and control module
58" standard audio cable with a 90 degree connector on one end
Headphone/microphone splitter for use with PCs
3.5mm to ¼" plug adapter
Airline plug adapter
Final verdict
Monoprice 110010 is recommended if you want a headphone with solid bass with mid-range audio reproduction. 
In addition, you are getting a premium hard shell zippered nylon storage case with a nylon mesh internal pocket to store cable and accessories tidily. 
If you don't want to break the bank on quality headphones, you can choose this cost effective option. In terms of features and value, it can be a 7 out of 10 for the headphones.