Urban parks are like a breath of fresh air amidst the concrete jungles we call cities, and two iconic names immediately come to mind: Central Park in New York City and Hyde Park in London. Both of these expansive green havens offer a unique blend of nature, culture, and recreation. 
Central Park sprawls across 843 acres in Manhattan and boasts meticulously planned landscapes, including lakes, gardens, recreational facilities, and even a zoo. In contrast, Hyde Park, spanning over 350 acres, originated in the 16th century and has evolved with time, nestled within London's forested expanse – as 21% of the city is covered by trees, qualifying it as a forest by UN standards.
Here, You will discover their differences which will appeal to your intellectual curiosity. 
Location and Size
Central Park in New York City and Hyde Park in London are both impressive urban parks. However, when it comes to size, Central Park takes the lead. Covering a massive 843 acres, it's the fifth-largest park in NYC and the most visited in the US, drawing around 38 million visitors yearly. On the other hand, Hyde Park spans 350 acres, making it the largest in central London but not as vast as Central Park.
Despite their size differences, both parks share prime city-center locations. Central Park lies between the Upper West and Upper East Sides of Manhattan, while Hyde Park graces the heart of London in the City of Westminster. This central positioning ensures easy access for locals and tourists alike.
Moreover, both parks offer various ways to get around conveniently by public transportation. While Central Park boasts a rectangular layout, stretching 2.5 miles north to south and 0.5 miles east to west, Hyde Park has a less uniform shape, extending 1.5 miles in length and 0.5 miles in width.
History and Establishment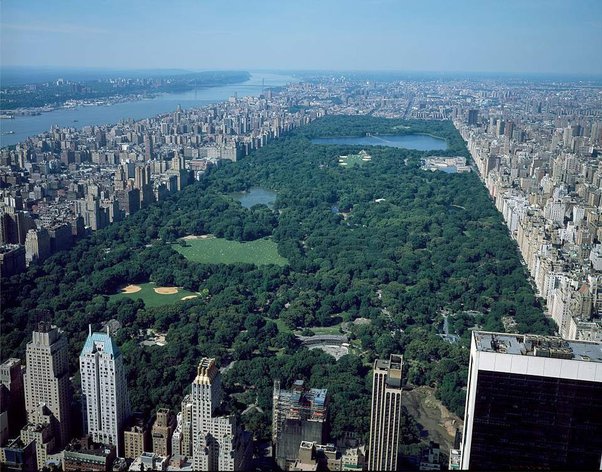 Central Park, established in 1858, responded to New York City's rapid growth by creating a sprawling oasis. Designed by Frederick Law Olmsted and Calvert Vaux, this park transformed 843 acres of once-challenging terrain, requiring over two decades for completion.
In contrast, Hyde Park's origin is more intricate. Originally a hunting ground claimed by King Henry VIII in 1536, it opened to the public in 1637. Its design evolved through contributions from Charles Bridgeman in the 18th century and Lancelot "Capability" Brown in the mid-18th century. Encompassing 350 acres, it holds the title of central London's largest Royal Park.
Further, Despite differing stories, both parks serve as crucial urban sanctuaries, woven into the cultural and social fabric of their respective cities. They exemplify the enduring importance of open green spaces in bustling metropolitan areas.
Design and Landscape
In the realm of Central Park, a meticulously crafted landscape takes center stage. This expanse is a product of deliberate human ingenuity, characterized by meandering pathways thoughtfully laid out. The majority of the park exhibits a carefully orchestrated arrangement, while nestled within it lies The Ramble—a sanctuary spotlighting nature's unspoiled allure. Original pathways, devised for diverse modes of passage such as horses, crisscross the park, with The Mall standing as its sole straight trajectory.
Conversely, Hyde Park, a regal London sanctuary spanning 350 acres, unfolds with a medley of gardens, lakes, and monuments. Tracing its origins to the 16th century, the park has experienced transformations across its history, evolving into a harmonious blend of formal and informal elements. 
Among these are the Rose Garden and the Italian Garden, pockets of horticultural delight, interspersed with statues and landmarks including the Diana Fountain and the Wellington Arch.
Considering these disparate qualities, Central Park emphasizes its naturalistic attractions, while Hyde Park is praised for its organized gardens and memorial monuments, resulting in two distinctive urban sanctuaries for residents and tourists alike.
Attractions and Activities
In Central Park, iconic landmarks such as the Bethesda Fountain and Central Park Zoo are magnets for visitors. Activities like hiking, biking, and birdwatching are readily available, while the Jacqueline Kennedy Onassis Reservoir provides a serene escape. Seasonal shifts bring unique experiences, from winter ice skating to summer roller skating.
 Notably, the New York Marathon culminates in this park annually, adding to its allure. The warm months offer free cultural events like New York Philharmonic concerts and Shakespeare in the Park performances, and the Great Lawn hosts the annual Global Citizen Festival.
On the contrary, Hyde Park boasts a rich historical and cultural tapestry. The Franklin D. Roosevelt Presidential Library and Museum beckons history aficionados, while the Vanderbilt Mansion National Historic Site opens a window to Gilded Age opulence. 
The Artists' Collective of Hyde Park showcases local creativity, while outdoor enthusiasts can explore trails at Staatsburgh State Historic Site or enjoy leisurely walks along the Hudson River at Hyde Park Landing. The park's unique charm is heightened by the presence of captivating swans, a distinctive feature of a visit.
What To See At Hyde Park
Serpentine Lake: Nestled within the park, the expansive Serpentine Lake offers opportunities for boating, swimming (in designated areas), and simply enjoying the tranquil waterside atmosphere.
Kensington Gardens: Adjacent to the park, Kensington Gardens boasts stunning landscapes, including the breathtaking Italian Gardens, as well as the historic Kensington Palace, a former residence of Princess Diana and currently housing members of the royal family.
Serpentine Galleries: Within this area, you'll discover the Serpentine Galleries, two contemporary art venues that showcase a rotating selection of modern artworks and exhibitions, appealing to art enthusiasts and culture aficionados.
Diana, Princess of Wales Memorial Fountain: Offering a serene and unique memorial experience, the fountain honors the late Princess Diana. Visitors can take a leisurely stroll around or sit by the flowing waters.
Speaker's Corner: With over 150 years of history, this location serves as a platform for open discussions and free speech. People from diverse backgrounds gather here to express their opinions and engage in lively debates on a wide array of topics.
Winter Wonderland (seasonal): Transforming into a festive wonderland during the winter months, the park becomes a hub for seasonal activities including ice skating, amusement rides, Christmas markets, and other delightful attractions.
Memorials and Monuments: The area boasts an array of statues and memorials, among them the Albert Memorial, the Holocaust Memorial, and the Cavalry Memorial, offering a glimpse into historical and cultural significance.
Open-Air Concerts and Events: The park frequently hosts open-air concerts, festivals, and events, making it a vibrant hub for entertainment. Notable occasions include music festivals like "British Summer Time" and various cultural celebrations.
Horse Riding: For those seeking a unique experience, facilities offer horse riding and dedicated paths, allowing enthusiasts to immerse themselves in natural beauty while horseback riding.
Walking and Jogging Trails: A network of picturesque trails winds through the landscapes, providing an ideal setting for both exercise and relaxation.
Boating: On the lake, you can rent rowboats and pedal boats, providing a leisurely way to experience water features and unwind in a serene environment.
Wildlife Watching: Nature enthusiasts will delight in diverse wildlife, which includes various bird species, squirrels, and other creatures. The area offers an excellent opportunity for birdwatching and connecting with nature.
Corner: Marked by a grand archway and the iconic Wellington Arch, this spot offers historical context and panoramic views of the surrounding area, making it a must-visit for history and architecture enthusiasts.
What to see at Central Park?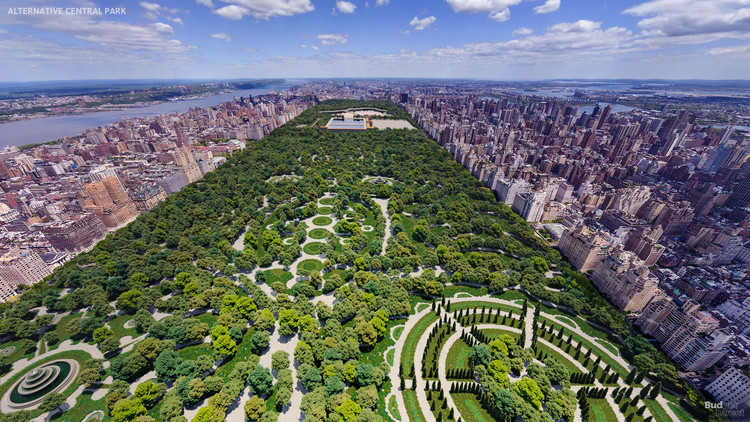 Central Park Zoo: Situated near the southeast corner of the park, the Central Park Zoo is a charming destination featuring a wide range of animals. From snow leopards to penguins, the zoo's compact and easily accessible layout makes it a must-visit spot.
The Mall and Literary Walk: Along this iconic pathway, majestic American elm trees are lined, creating a serene atmosphere. Furthermore, statues of famous literary figures adorn the path, making it an ideal spot for a leisurely stroll and an opportunity to appreciate the park's natural beauty.
Bethesda Terrace and Fountain: A remarkable architectural landmark, Bethesda Terrace boasts intricate designs and grand staircases. Additionally, the beautiful Bethesda Fountain is a centerpiece that invites relaxation and people-watching.
Central Park Conservatory Garden: Located on the northeastern edge of the park, the formal garden offers exquisite landscapes, meticulously maintained flower displays, and fountains. As a result, it becomes a tranquil escape from the bustling city.
The Great Lawn: Spanning 55 acres, the Great Lawn is a vast open space perfect for various activities. It's an ideal location for picnics, sports, sunbathing, and attending outdoor events and concerts.
Bow Bridge: Often referred to as one of the most romantic spots in Central Park, Bow Bridge is a picturesque cast-iron bridge. With its stunning views of the lake and surroundings, it's a favorite among visitors.
The Ramble: This more naturalistic area of the park features winding pathways, rustic bridges, and dense vegetation. Consequently, it provides a haven for birdwatching and nature enthusiasts seeking tranquility.
Belvedere Castle: Perched atop Vista Rock, Belvedere Castle offers panoramic views of the park and city skyline. Additionally, it houses the Henry Luce Nature Observatory, providing educational displays about the park's ecosystems.
Conservatory Water: This serene pond is a popular destination for remote-controlled boat sailing. Furthermore, it offers a peaceful retreat with benches and picturesque views of the surrounding cityscape.
Central Park Carousel: A classic attraction, the Central Park Carousel delights visitors of all ages with its beautifully crafted horses and whimsical music.
Shakespeare Garden: Featuring flowers and plants mentioned in Shakespeare's works, this enchanting garden is perfect for a quiet stroll and gaining literary inspiration.
Alice in Wonderland Statue: A beloved sculpture located near Conservatory Water, the statue depicts characters from Lewis Carroll's classic tale. Notably, it invites visitors to sit and explore.
Cleopatra's Needle: An ancient Egyptian obelisk gifted to the United States in the late 19th century, Cleopatra's Needle is a historical monument located behind the Metropolitan Museum of Art.
Wollman Rink (seasonal): During the winter months, Wollman Rink provides an ice skating experience with a backdrop of the city skyline. In contrast, during the summer, it transforms into a Victorian Gardens amusement park.
Central Park Horse Carriage Rides: For a romantic and leisurely way to explore the park, horse-drawn carriage rides offer a unique perspective on the park's landmarks.
FAQ
How do Central Park and Hyde Park reflect their respective cities?
Central Park: Central Park reflects the vibrant energy of New York City, providing a green oasis within the bustling urban landscape.
Hyde Park: Hyde Park embodies the mix of history and modernity in London, offering a tranquil space amidst the city's dynamics.
Are Central Park and Hyde Park essential destinations for visitors?
Absolutely. Central Park is a must-visit when in New York, offering an escape from the city's hustle and a range of activities for all ages.
Likewise, Hyde Park is a must-visit in London, providing a peaceful retreat and a taste of London's cultural blend.
How do Central Park and Hyde Park contribute to their cities' cultural scenes?
Central Park: Central Park hosts numerous cultural events like concerts, performances, and art installations, enriching New York's cultural offerings.
Hyde Park: Hyde Park's Speaker's Corner is a hub for free speech and open debate, symbolizing London's rich history of intellectual and cultural exchange.
How do the wildlife and nature differ in Central Park and Hyde Park?
Central Park: Central Park features a diverse range of wildlife, including birds, squirrels, and various plant species, creating a mini-ecosystem within the city.
Hyde Park: Hyde Park's natural setting supports a variety of wildlife such as waterfowl, swans, and insects, fostering a harmonious coexistence with urban surroundings.
 Are there any guided tours available in Central Park and Hyde Park?
Central Park: Central Park offers guided walking, biking, and horse carriage tours that provide insights into the park's history, design, and attractions.
Hyde Park: Hyde Park offers guided walking tours that delve into its history, architecture, and significance as one of London's Royal Parks.
Conclusion
To sum up, Central Park and Hyde Park serve as vital escapes within their bustling cities. They might be miles apart, but they share a purpose: offering a peaceful connection to nature.AS well as  One reflects New York's vibrancy, giving people a place to unwind amid the city's bustle. Other embodies London's mix of history and modern life, providing a serene haven. Different in design yet similar in their urban roles, these parks remind us how essential green spaces are in our busy cities. As cities grow, these parks remain timeless, reminding us to cherish nature's presence amid the urban rush.
Last but not least instead of comparing the two, we would state that Central Park is a must-see in New York and Hyde Park is a must-see on the other side of the literal pond in London.